Christmas in Trinidad and Tobago
by Bill Egan, Christmas Historian
Trinidad and Tobago is a twin Caribbean island located between the Caribbean Sea and the North Atlantic Ocean, northeast of Venezuela.
When Santa Claus arrives in Trinidad and Tobago, it's to the rhythm of soca parang. The climate is warm and flowers are in bloom which makes for a colorful season.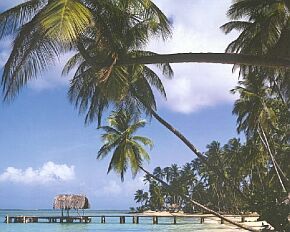 Parang is a specialty during the Christmas season. Informal groups, not unlike the British waits, go around serenading in their neighborhoods with horns, guitars, steel drums, tambourines, pots, pans, and any other kind of instrument or noisemaker that can be easily moved from house to house. The better organized and professional Parang groups traditionally use box bass, shac shacs(maracas) guitar and the quatro (a four string guitar).
According to Giselle from Trinidad, "Parang is the Christmas music of Trinidad. Soca Parang is also sung but Soca Parang is a relatively new blending of Soca (calypso) and Parrang. Parrang comes from the Venezuelan tradition of Parranda."
The Parang group may very well show up late at night after the house is quiet. They keep on singing until the household gives in to their merriment and they are invited in for refreshments. It is said that during the Christmas season, most households never sleep. They are either home have fun or having a festive time somewhere in the neighborhood.
The days leading up to Christmas are filled with parties at school and at the office. Social organizations also have parties where gifts are exchanged.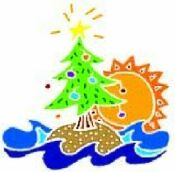 Christmas dinner may consist of turkey, ham, pork, pastels (a beef-filled pastry), pigeon peas, and rice. Dessert is the popular black cake of which the main ingredient is fruit that has been soaked in Caribbean rum for several weeks (longer for some recipes). Additional rum is poured over the cake after it has been baked. The Christmas beverage in this warm climate is gingerbeer, Carib beer, or sorrel drink.
Christmas trees are everywhere, however most are artificial. Real trees were imported in the past, but the artificial trees of this era look very real and don't dry out as a real pine would in the tropical climate.
The Christmas season is a natural lead in to the Carnival season which culminates on the Monday and Tuesday just before Ash Wednesday.
Song: Joyous Calypso


---
© 2001-03 by W. C. Egan
---